When your pain factor from a sports injury is off the scale, our orthopaedic surgeons can help.
Our team of orthopaedic surgeons specialise in treating a range of injuries to get you on the road to recovery.
We have some of Australia's best orthopaedic surgeons, with extensive experience and a special interest in sports injuries. Their specialties range from hips to knees, to shoulders, elbows, wrists, hands, ankles and feet, which mean that you'll get the right treatment for your sports injury.
A professional and comprehensive service.
Each of our orthopaedic surgeons provide a comprehensive service for all conditions within their area of specialisation. Your orthopaedic surgeon will liaise with your referring health professionals and associated physiotherapists to manage your injury and its rehabilitation (if you require surgery).
Book online now or give us a call to discuss what kind of appointment you need
Our practitioners can help solve the cause of your pain.
Balmain Sports Medicine has some of Australia's top practitioners who are experts in sports medicine. If you have an injury or are experiencing pain, one of our expert practitioners can help.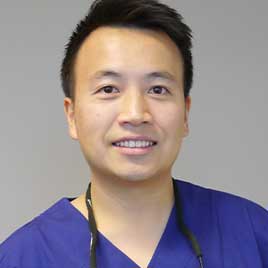 Hands & Plastics Surgeon
Orthopaedic
Dr Owen Ou Yang is an Australian-trained Specialist Plastic Surgeon and a Hand & Wrist Surgeon. After completing his fellowship …
Your severe sports injury could need treatment by a specialist orthopaedic surgeon.
At Balmain Sports Medicine we know that some sports injuries need immediate and critical orthopaedic surgical treatment. Don't risk further injury by leaving it unchecked. If you need help fast, call us – fast.